Motorcycle wreckers Brisbane
Online- motorcycle wrecker- parts supplier
As Brisbane's only online motorcycle recycler we will get the parts you need.
We supply recent makes of motorcycles that have been scrapped and written off by insurance companies.
Motorcycles are usually purchased from insurance companies, individuals, and auctions.
As Brisbane's motorcycle wreckers we buy operational, damaged or written off  motorcycles simply for parts and then typically sell these to you at a highly reasonable rate.
We offer most motorcycle parts within a 2 day delivery time from your online purchase
Normally, a motorcycle that has been in an accident would have received damage to the extent that the bike cannot be ridden without the replacement of major parts.
If the bike is more than a few years old, then the parts could be almost impossible to find through a dealer, so we try to stock not only motorcycle parts to suit most years , but most motorbike makes and models as well
This is when motorcycle wreckers become valuable friends with the bike owner.
The motorcycle wrecker strips useable and good parts from motorcycles which are then sold to the public, motorcycle workshops or motorbike accident repairers. Search our online motorcycle wrecker webpage for brisbane motorcycle spares when you need them or call our customer care services.
As a  motorcycle wrecker we try to supply all the parts needed our customers may need to help them return any damaged or non-working bikes to the road or dirt.
We also sell some  parts on an exchange basis and in this way as a motorcycle wrecker we can always ensure that there will always be some type of stock on our shelves.
As they say, one man's junk is another man's treasure and so many parts that are of no use to one owner may be very valuable to another and might actually be the final piece to a long-term refurbishment or restoration.
Most maintenance parts, such as tires, drive belts, and seats, are removed carefully and marked, and stored in our warehouse.
All parts are workshop tested, to both check they are working correctly and also to make sure they are safe to be re-used on your motorcycle.
 You do not need a huge network to get your bike upgraded as brisbane motorcycle spares is where you will find all you need.
We offer prompt dispatch of parts with fast and cheap shipping.
We pride ourselves on honest advice, extensive knowledge, and great service. Our aim is simple, get you back on your motorbike as quickly and as cheaply as possible.
Recycling your old bike in Brisbane
Recycling motorcycle parts and motorcycles is an important aspect of motorcycle use. Home recycling is a significant part of the motorcycle culture and also is great for the environment as it reduces landfill and saves on energy costs. This is where you end the bike's registration and take it apart for reuse of its parts. Home recycling helps to keep bikes on the road with used spare parts, instead of using new parts that have to be produced from raw materials.
Recycling motorcycles can be a more cost-effective solution for riders. Rather than purchasing new parts or a brand new motorcycle, recycled parts can often be obtained at a lower cost, making it an accessible option for riders on a budget. Furthermore, recycling can also support local businesses, as many recycling operations are small and independently owned.
However, it's important to note that recycling motorcycles should be done responsibly and safely. Motorcycle recycling operations should adhere to environmental and safety regulations, and only use authorized disposal methods for hazardous materials, such as oil or batteries. Additionally, riders should ensure that the recycled parts they purchase are of high quality and safe for use on their motorcycles.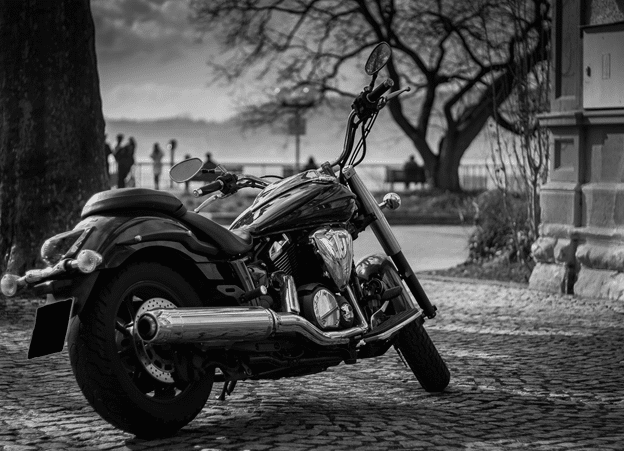 How to dispose of motorcycle in Brisbane
The private reuse of motorcycle parts is one of the best ways to prevent waste and to prevent the unnecessary use of raw materials. This way, motorcyclists can play their part in the circular economy whilst being environmentally friendly.
Doing your own oil change is a great way to protect your engine. Whether you've got a Yamaha, Suzuki, BMW, or any other motorcycle, finish the job right by recycling your used oil and filter. Both motor oil and the steel in oil filters can be cleaned and used over and over again if they're recycled.
Did you know motorcycle owners change their own oil 5 times more than average motorists? Used oil and filters are considered hazardous materials and unlawful dumping are prohibited by law. Recycling is the only legal way to dispose of them.
Recycling oil protects our groundwater
Used oil filters are considered hazardous waste
Used oil & filters are illegal to throw in the trash
Used oil & oil filters are easier to recycle than ever!
It's free to recycle these materials
It's convenient (lots of local locations for drop off)
Here's how to recycle your used oil & filters:
Used oil filter: put it in a sealed container (like a ziplock bag)
Used motor oil: put it in a tightly sealed unbreakable container
Take both oil and filters to a collection centre
Motorcycle dismantlers near me in Brisbane
Recycling and reusing motorcycle parts helps to keep bikes on the road with used and affordable spare parts, instead of using new parts that have to be produced from raw materials.
For the recycling of powered two-wheeled vehicles, it would be most effective to utilize the dismantling parts as much as possible, as this reduces the need for new parts and the ecological load on their manufacturing. The use of raw materials should be secondary.
Thirdly, the recycling and recovery of waste from dismantled vehicles should be effective.
Motorcycle Wreckers recycles is committed to protecting the environment and by enabling us to achieve our mission, we environmentally recycle motorcycle parts to keep the environment clean, save our customers money and get your motorcycle back running quickly.
Vapor blasting engine cases
Vapor blasting has fast become a top priority for most motorcycle restoration shops. With vapor blasting, you can protect, clean, and restore history with only one step using wet blasting.
With the fast-flowing action of the water, you can eliminate rust, corrosion, and years of grime as well as tarnish out of the tightest spaces in record time. This is undeniably the best process when it comes to not only cleaning but surface finishing parts for a rebuild.
Can you vapour blast a complete engine near Brisbane
Yes, you can! Using only the best vapour blasting equipment and spherical glass bead technology we are able to supply a magnificent surface finish that will make your parts almost look better than new. Our process won't remove any parent metal so you will retain all critical measurements.
This is perfect for sensitive areas such as machined mating surfaces and engine parts.
Dirt bike wreckers in Brisbane
Contact us today to find out if your dirt bike is one of the models that we wreck. We provide all makes of dirt bikes and dirt bike parts. We love to provide our customers with quality service and are your go-to online motorcycle wreckers in Brisbane, Australia. You will get free quotes by just providing your details. Even if you just need advice, phone us and one of our friendly staff will help you out.
These are the brands that we wreck:
Yamaha
Suzuki
KTM
Kawasaki
Husqvarna
Honda
Ducati
Aprilia
If you don't see your brand of motorcycle there, give us a call (0408795705) and we can chat about what we can do for you.
We offer prompt dispatch of parts with fast and cheap shipping. We pride ourselves with honest advice, extensive knowledge and great service. Our aim is simple, get you back on your motorbike as soon and as cheap as possible.