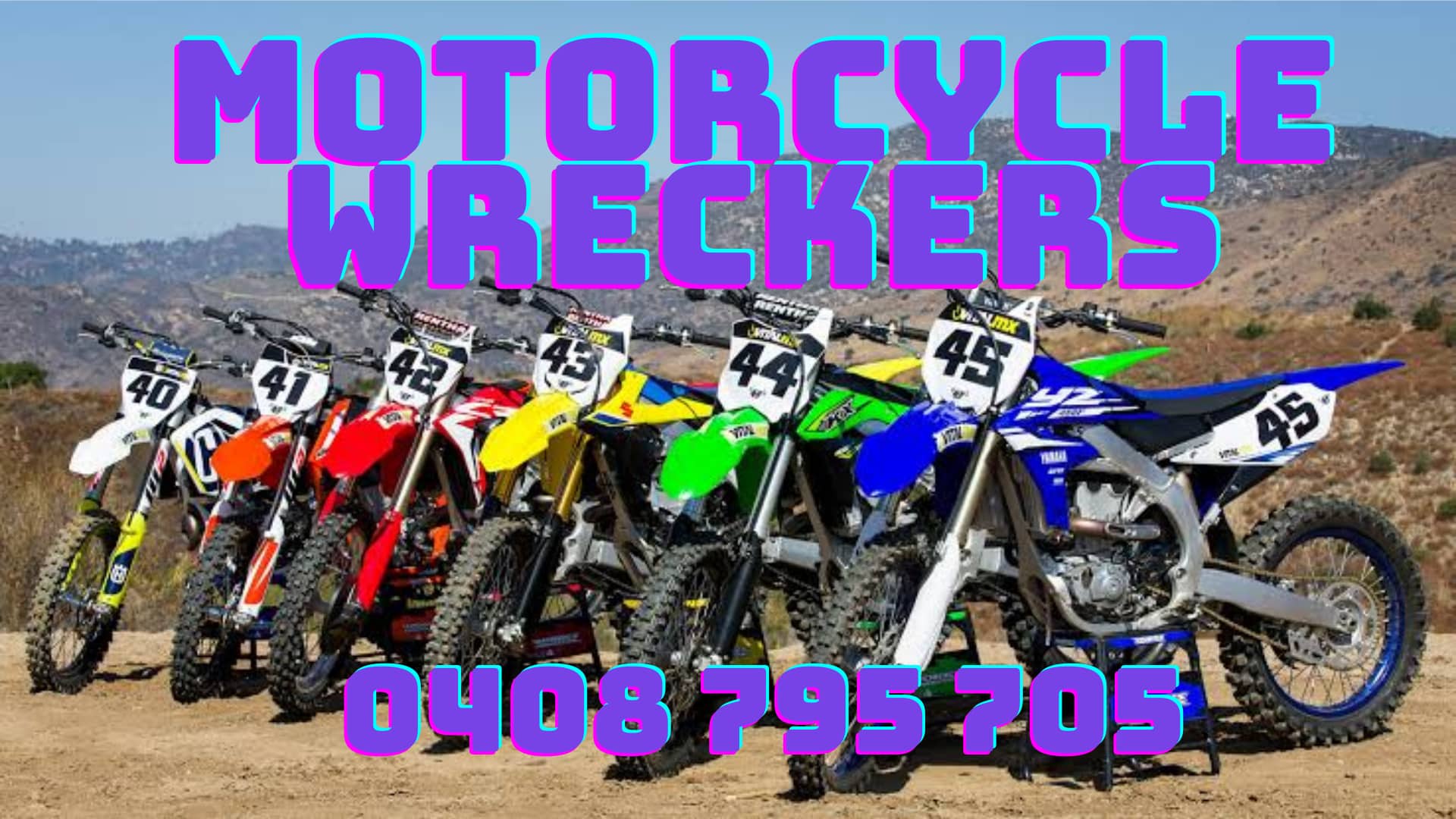 Just Motorcycle Wreckers : Biggest specialist-Online Motorcycle Wrecker
Our company, Just Motorcycle Wreckers is an online motorcycle wrecker store located in Australia. We as a motorcycle wrecker, focus only on used motorcycles and motorcycle parts. For around 30 years, we have been giving the best motorcycle wrecking services to our customers. We are always buying damaged motorcycles so we can have a great stock of high quality used parts supply. We buy motorcycles from individuals, motorcycle dealers, and auctions throughout Australia. We have a vast inventory that consists mainly of Japanese motorcycles as well as some European models. All of our used motorcycle parts are fully tested and verified before they are put on sale, ensuring that each part you buy meets your expectations in terms of quality and performance.
Our mission is selling quality motorcycle parts to our customers, so they can keep their dirt bikes, motor cross, road trail motorcycles, and scooters running well and safely. If you're interested in purchasing second-hand bike parts or selling your bike for cash, our company can assist you no matter what.
Just Motorcycle Wreckers : Biggest Online Specialist Motorcycle Wrecker
Our customers include individuals, Motorcycle stores, motorcycle restoration enthusiasts, and insurance repairers who purchase various types of motorcycle parts from us to repair and restore their or customers' motorbikes. We have clients from different corners of the globe. We strive to be your professional and honest used parts supplier Brisbane motorcycle wreckers, Queensland dirt bike wreckers and QLD motorcycle wreckers.
You can sell your used or damaged motorcycle to us; we accept any model, any make, any year, and any condition, we organize prompt pickup and payment, no hassle transaction, so we can keep various spare parts in stock for our customers.
If any motorcycle part is not available with us, we always try to find it for our customers. We have suppliers in Australia and also around the world from which we can locate the best quality motorcycle parts. If you are looking for a specific motorcycle part, you can also submit your request in our part locating request form. 
In this way, we will buy that part from our suppliers, and you will get your spare parts in less time. We are a one-stop motorcycle shop as we also have a complete workshop facility for motorcycle repairs and servicing as well as has built a respected business catering exclusively to all types of motorcycle machine workshop services
Right Parts For The Right Motorbike
We have various spare parts for the different types of motorcycles. You will get the spare parts for dirt bikes, motocross, road trail, road motorcycles, and scooters. If you have any of these motorbikes and it is not working, you do not need to worry. Just order the spare parts from us and fix your bike in less time. At our online store, you can discover motorcycle spare parts from the companies such as Gas Gas, Honda, Husqvarna, Kawasaki, KTM, Suzuki, and Yamaha. We have already delivered so many motorcycle spare parts from these major brands to our customers. It doesn't matter where you live, we send spare parts within Australia and also worldwide.
At Just Motorcycle Parts, you will get genuine OEM spare parts for your motorbike. These spare parts are removed from the used motorcycles carefully. We take quality used motorcycles from companies and individuals. We guarantee all our new and used parts, we have a family of happy customers which have been purchasing motorcycle spare parts from us for a long time.
Our payment system is very secure, you are welcome to pay by bank deposit, credit card, or PayPal.You are also welcome to purchase motorcycle spare parts through our eBay store.
At Just Motorcycle Parts, you will get spare parts for your motorbike in less time. We freight in Australia and also around the globe. We accept orders from multiple countries. We give quick dispatch of spare parts with speedy and cheap shipping. Our mission is to provide you with the required motorcycle parts in the quickest time. You can use our parts request and finder service on our website. In this way, we will let you know if these parts are available from us or we will be happy to locate them from our large network of suppliers. Then we will locate your spare parts quickly and we will freight them to you promptly. 
We always deliver the best quality motorcycle spare parts to our customers. If you are not feeling happy with our products or service, please let us know straight away as we pride ourselves on our high quality customer service
The best thing about our online motorbike wrecking store is that it is always open to our customers. You can purchase spare parts for your motorbike anytime and anywhere. Anybody can contact us to ask their queries regarding spare parts, sales and more. You can also submit your details in the contact section. Mention your name, number, email, and message and one of the team members will contact you shortly.
Also, for checking the availability of parts, do not forget to use our part request form. You can also contact us to sell your used or damaged motorbike. You can call us on this phone number: 0408795705. Here's our best email: info@, you are most welcome to contact us anytime and we will reply to you as soon as possible

Fast Delivery
7 Days Return

Secure Payment
100% secure payment

24/7 Support
Dedicated support
We offer prompt dispatch of parts with fast and cheap shipping. We pride ourselves with honest advice, extensive knowledge and great service. Our aim is simple, get you back on your motorbike as soon and as cheap as possible.